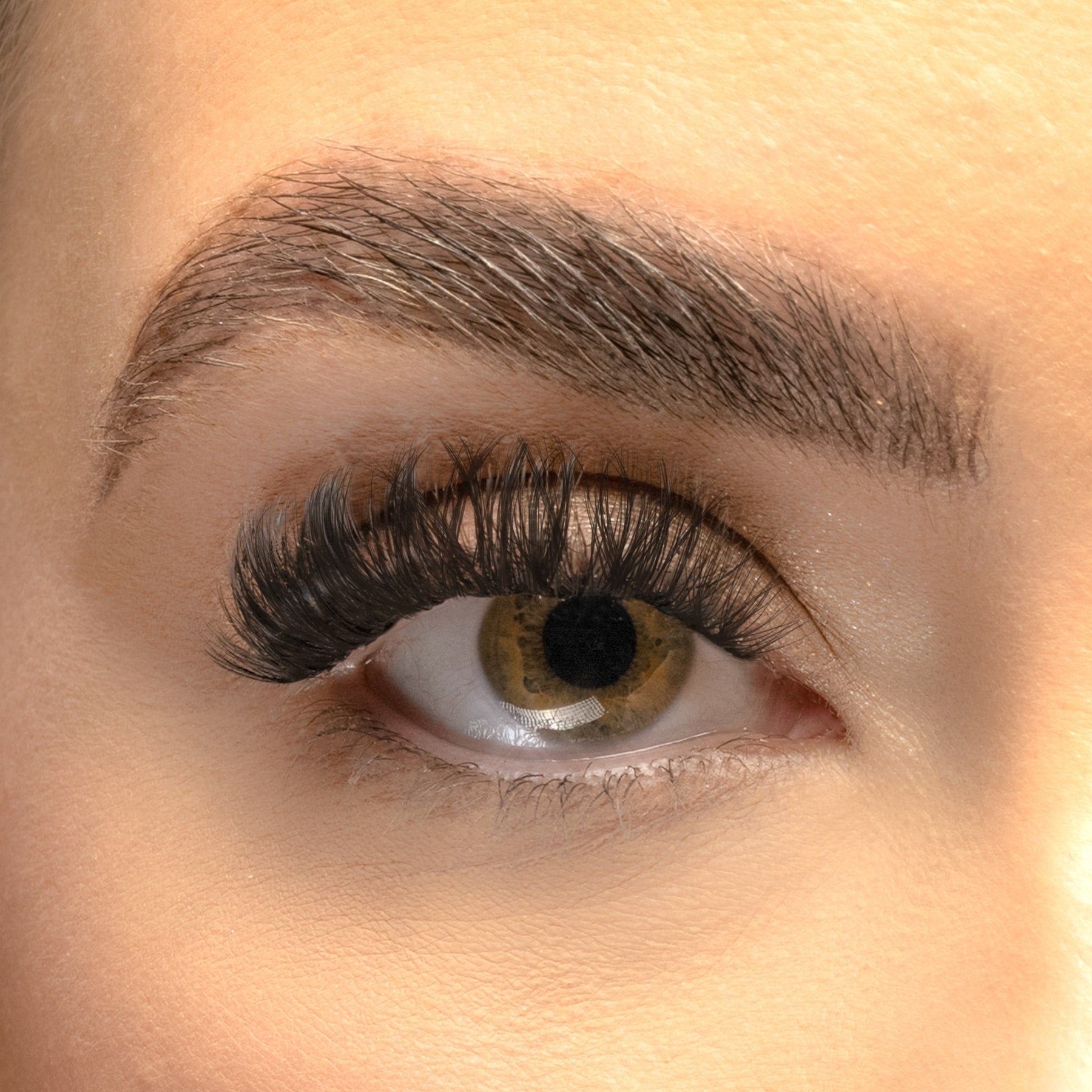 Russian XL Individual Cluster Lashes
Sunday Salon's Russian XL cluster lashes were designed with volume lovers in mind. D curl + density = statement. 
Sunday Salon's pre-mapped lashes make things beautifully simple. Developed in collaboration with expert lash techs, the pre-mapped collection features curated lash styles specifically designed for salon-style lash extension looks. More than just convenience, these lashes ensure your eyes dazzle with a flawless finish.
About Russian XL Lashes

Features:

Reflects the rich, multi-layered density typical of Russian/Volume extensions.
Designed with a D Curl, showcasing a pronounced curve at the tips compared to C Curl lashes.
Vegan & Cruelty-Free Lashes.

Perfect For:

Those looking to achieve the stunning Russian lash extension look.
Those looking to save time and money on salon appointments and/or multiple false lash applications.
People with large and/or hooded eyes, as they give the appearance of more open and awake eyes.

Benefits:

Economically savvy: Compared to lash extensions, expect to spend less than £3 weekly with our individual cluster lashes.
Innovative under-lash application ensures an authentic finish, setting it apart from conventional strip lashes.
Swift application in under 10 minutes – a significant cut-down from lengthy salon visits.
Curated pre-mapped lash for a salon style finish.
Reusable clusters when treated with correct aftercare
Classic, Russian or Hybrid?

The primary distinction between Classic, Russian, and Hybrid lashes lies in their density. Each style offers a varying level of fullness, catering to individual preferences for lash volume.

Classic

Classics are applied in a 1:1 ratio, meaning one extension per natural lash. Classics are perfect for enhancing length while keeping volume to a natural level. 

Russian

Russian (Volume) extensions too are applied in a 1:1 ratio - the difference, however, is that the lashes are fanned. The number of lashes in the fan can vary from 2 (2D) all the way up to 7 (7D)! Russians are perfect for making a statement with your eyes.

Hybrid 

Hybrids are a combination of Classics and Volume - usually in a ratio of 30:70 Classic to Volume. This gives the best of both worlds without the sometimes-unnatural look of Russians. Because of the change of texture, these lashes can appear spikey.
Bond & Seal Explained

Discover a revolution in lash application with the Sunday Salon Bond & Seal System. Move beyond the constraints of traditional 1-day lash glues and step into the realm of 7-day wear.

Bond: Our specially-formulated Bond is more than just an adhesive; it's a week-long commitment to flawless lashes. Its robust formulation ensures that clusters remain anchored for up to seven days, providing a longevity that traditional glues simply can't match.

Sealant: Ensure your perfect lash look lasts even longer with the Sunday Salon Sealant. It doesn't just set the bond, it removes any residue from the bond, helping provide the perfect finish. 

When used correctly, the Sunday Salon Bond & Seal duo ensures that your clusters remain impeccable for up to a week.

Tips

- Apply your Bond sparingly, a little goes a long way.

- To extend lash extension longevity, add a thin layer of bond to the lash cluster's band before application. Allow it to dry for 20-30 seconds before attaching the clusters to natural lashes.

- Before applying bond to natural lashes, detach the lash clusters from the tray for smoother application.

- When applying the Seal, use the fuzzy ball tip at the lash base where the Bond is stickiest. Apply the Seal from the root to the tip using the brush applicator.

Ingredients

(Black Bond) Acrylates Copolymer, Aqua, Vitamin E, CI77499

(Seal) Aqua, Polyvinyl Alcohol, Carbomer, Vitamin E, Phenoxyethanol, Octane-1,2-diol
Money-Back Guarantee

We offer a no questions asked 14-day Money Back Guarantee on used and unused products. Try our lashes risk free with easy returns.

We offer exchanges up to 30 days after receiving your order. If you aren't 100% happy with your purchase, we'll happily exchange it for another product on our website.
Russian XL DIY Lash Extensions
Sale price
£7.00
Regular price
Choose options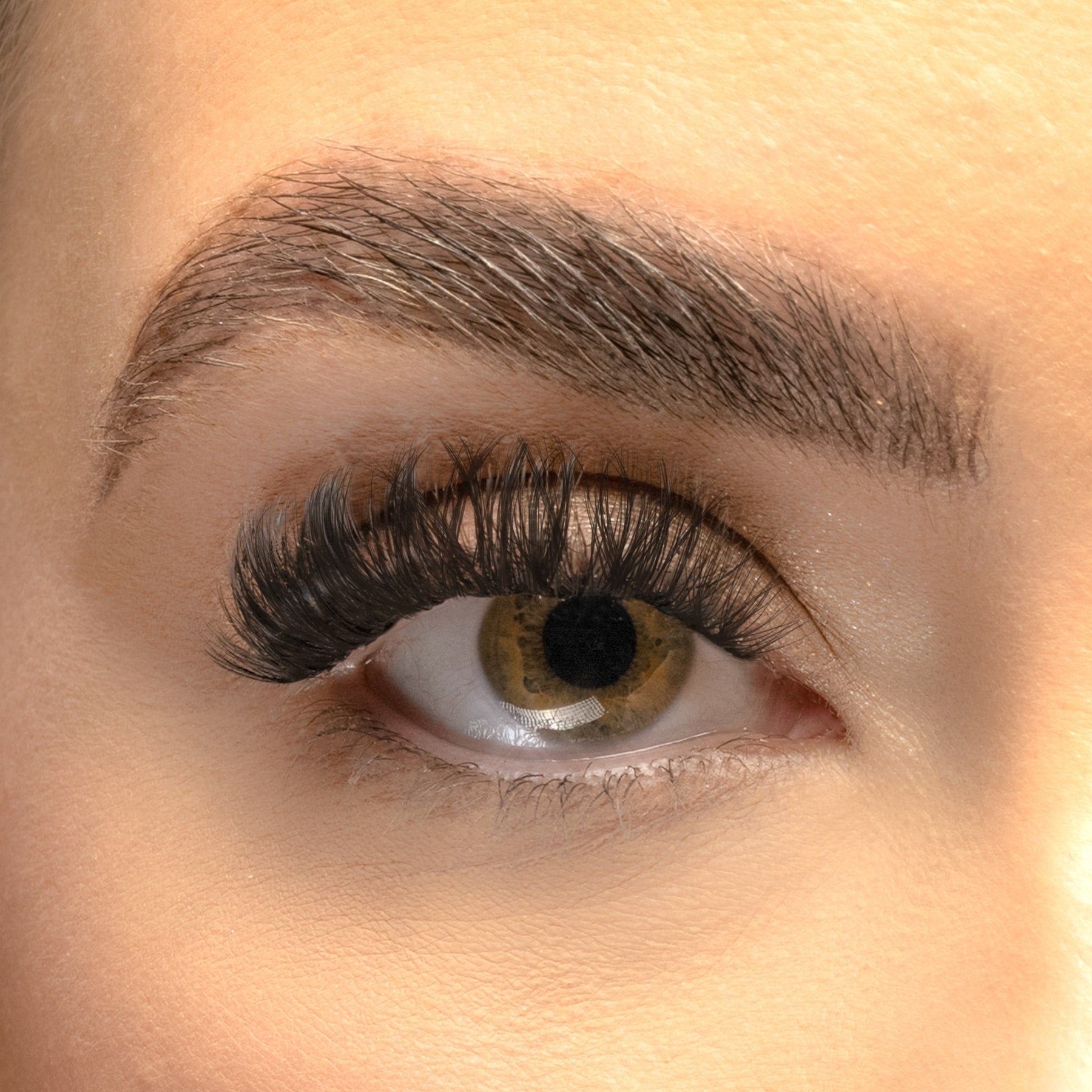 Apply Bond
Brush on a thin coat of Bond under your natural lashes – a little goes a long way. Then wait 20-30 seconds for the Bond to become tacky on your lashes.
Apply Lashes
Using the lash applicator, gently apply each individual cluster lash underneath the base of your natural lashes, 1mm away from the waterline to avoid possible irritation.
Clamp
Once you're satisfied with your application, you can use the lash applicator to clamp down on your natural lashes and the lash clusters. This will help the adhesive set.
Apply Seal
To remove any residue and give your lashes an extra long lasting hold, apply a thin coat of the seal above and below the lashes.
Shop Pre-mapped Cluster Lashes